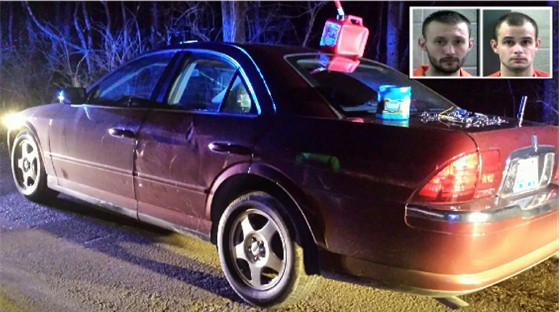 Laurel County, KY - Sheriff John Root is reporting that Deputy Shawn Jackson along with Deputy Kyle Gray and Deputy Tommy Houston arrested Harry Castle age 33 Of Scott St., London on Sunday night January 17, 2016 at approximately 11:15 PM.
The arrest occurred on J Chestnut Lane, approximately 11 miles south of London after deputies were dispatched to a complaint of a vehicle that was sitting on J Chestnut Road. The caller stated that a male subject got out of the vehicle and started running when he stopped to see if they needed help.
When officers arrived at the scene they located this individual in the driver seat and upon conducting an investigation determined that the vehicle, a 2001 red colored Lincoln four-door had been reported stolen in a theft and burglary in Manchester, Kentucky earlier in the day. The vehicle had been reported as stolen to the Manchester Police Department. In addition, officers at the scene located numerous sets of car keys that apparently belonged to cars at the car lot where the Lincoln had been stolen.
This subject stated he and others had taken the car from a car lot in Manchester. This subject was determined to be under the influence. Harry Castle was charged with receiving stolen property under $10,000 and public intoxication – controlled substances and was lodged in the Laurel County detention Center. This subject was also charged on a Clay County warrant of arrest obtained by Manchester Police Department charging this subject with burglary – first-degree and theft auto – the complaint stating that Harry Castle had unlawfully took control over movable property after breaking into the car lot office and took keys to cars and took three cars valued over $500.
A second subject was also arrested that had just gotten out of the vehicle when deputies arrived at the scene, and was identified as Franklin Parks age 25 of Terrell Cemetery Rd., Corbin charged with receiving stolen property under $10,000. – This subject stated that he was in the vehicle with a friend who had stolen the vehicle and that the two had ran out of gas on J Chestnut Road. Franklin Parks was also charged on a Knox County bench warrant of arrest for nonpayment of fines regarding a charge of assault – fourth degree.
Photos of the recovered stolen vehicle and the recovered stolen car keys from other vehicles in the used car lot provided by Deputy Shawn Jackson.
Photo of accused subjects is provided by the Laurel County Detention Center.