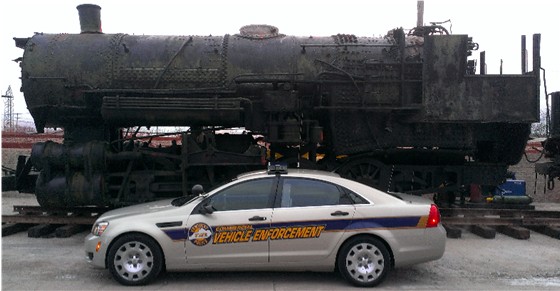 (Corbin, KY) - On Monday, January 18th 2016 Officers from KSP-Vehicle Enforcement took part in a special welcoming home ceremony for historic steam engine L&N 2132 after sixty-five years.
L&N 2132 is the last historic steam engine in the world that was built in the south Louisville shop and is finally returning home to be placed on display at the Corbin Tourism and Commission Conventions rail road museum in Corbin, Kentucky. L&N 2132 was sold by L&N to a Florida Power Plant in Sneeds Florida in 1951 and later was put on display in Bainbridge, Georgia for nearly thirty-six years.
KSP-Vehicle Enforcement was honored to give this prestigious steam engine the heroes welcome as Officers picked up the escort at the state line near the Cumberland Gap tunnel and escorted the over-sized engine through Bell, Knox, and Whitley Counties to its final resting place in Corbin, Kentucky.