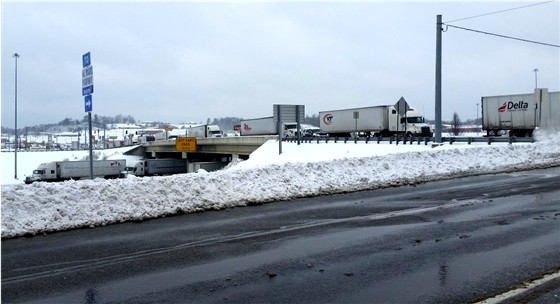 KY 80 at I-75 at exit 41
Laurel County, KY - Sheriff John Root is reporting an update on the road conditions in Laurel County as of 3:00 P.M. Saturday, January 23, 2016.
I-75 is open both north and southbound with slick spots, Ky 80 west toward Somerset is open with slow moving traffic, Hal Rogers parkway east toward Manchester open with slick spots, U.S. 25 slick spots, Ky 30 slick spots, Ky 490 snow covered and slick, and all other Laurel County roads snow covered and extremely slick and hazardous.
The National Weather Service in Jackson, Ky has issued the latest forecast:
SPECIAL WEATHER STATEMENT
NATIONAL WEATHER SERVICE JACKSON KY
...SNOW DIMINISHING FROM WEST TO EAST THROUGH EARLY THIS AFTERNOON...
...COLDER TONIGHT WITH SLICK CONDITIONS CONTINUING INTO SUNDAY MORNING...
LIGHT TO MODERATE SNOW WILL GRADUALLY DIMINISH TO FLURRIES FROM WEST TO EAST THROUGH EARLY THIS AFTERNOON. SLICK CONDITIONS WILL CONTINUE ON UNTREATED ROADS THROUGH SUNDAY MORNING...AS TEMPERATURES DIP DOWN INTO THE SINGLE DIGITS FOR MANY LOCATIONS LATE TONIGHT.
Sheriff Root reminds drivers--
Driving Saturday night into Sunday is recommended to be limited to emergencies only. Roadways in Laurel County continue to be very slick and hazardous, and dangerous to travel. Numerous traffic crashes occurred today.
Vehicles pulling into parking lots have been getting stuck due to the depth of the snow. Deputies will be on patrol to assist on any traffic and weather related concerns.
Shelters are in place provided by different Laurel County Fire Departments for persons without heat and necessities.
Emergencies can be reported to Laurel 911 Dispatch Center at 9-1-1 , and all other concerns to the Laurel County Sheriff's Office at 606-864-6600, or the dispatch center's non emergency number-606-878-7000. Updates will follow regularly on the sheriff's Facebook page.