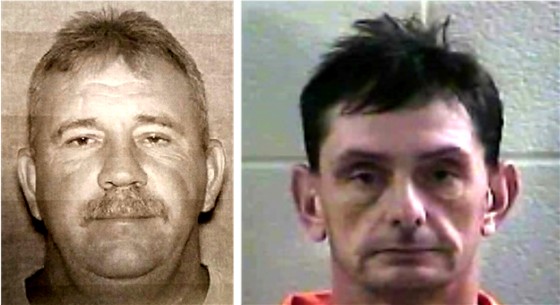 London, KY - Sheriff John Root is reporting that the Laurel Sheriff's Office Special Response Unit led by Major Rodney Van Zant arrested a male subject in London on East 5th Street who was on Tennessee's Top 10 Most Wanted list.
The arrest occurred on Thursday night January 28, 2016 at approximately 7:40 PM at a residence on East 5th St. in London. Information was developed on the fugitives whereabouts and Laurel County Sheriff's Special Response Unit along with the U.S. Marshal Service found the wanted fugitive hiding in Mark Rasnick's residence (the fugitive's brother's home) behind a small refrigerator and panels.
Rasnick told deputies repeatedly that his brother was not at his residence.
The fugitive arrested is identified as:
Rick James Brock age 51 charged with being a fugitive from Tennessee – wanted on Claiborne County charges of – four counts of aggravated assault with a firearm, and four counts of rape of a child. Tennessee authorities listed this subject having a violent criminal history and as armed and dangerous.
When arrested and while being processed at the Laurel County Sheriff's office this subject assaulted an officer and then attempted to escape and had to be physically subdued to end the altercation. Rick James Brock was also charged with resisting arrest; assault – third-degree – police officer is victim; and escape – third-degree.
Also arrested was: Mark Rasnick – Brock's brother who was hiding him out in his residence. Mark Rasnick age 45 of East 5th St., London was charged with hindering prosecution or apprehension – second-degree and resisting arrest.
Both subjects were lodged in the Laurel County Detention Center. Photos attached provided by the Tennessee Bureau of investigation and the Laurel County Detention Center.
Laurel County Sheriff's special response unit was led by: Maj. Rodney Van Zant with team members - Detective Jason Back, Detective Kevin Berry, Detective James Sizemore, and Deputy John Inman. Also assisting was U.S. Marshal Todd Hansford.