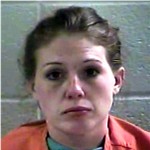 Laurel County, KY - Sheriff John Root is reporting that Deputy Kyle Gray arrested Kristen Miller, age 33, of Green Lake Rd., Corbin, on Thursday night, January 28, 2016, at approximately 10:35 PM.
The arrest occurred at Keller Road Dollar General store, approximately 4 miles west of London after Deputy Gray was dispatched to a complaint of a shoplifter observed by management there.
When Deputy Gray arrived at the scene, this subject was yelling at people inside and outside the store. Deputy Gray attempted to conduct an investigation, however, this subject refused to give her name or any information. Total value of the theft was $133.
While being processed at the Sheriff's Office, this subject cooperated giving her correct name and information and Deputy Gray learned that this subject had an outstanding bench warrant.
Kristen Miller was charged with theft by unlawful taking – shoplifting; disorderly conduct – second-degree; and giving officer false name or address.
In addition, this subject was charged on a Clay County bench warrant of arrest for failure to appear in court regarding a charge of theft by unlawful taking – shoplifting.
This subject was lodged Laurel County Detention Center. Photo attached is courtesy of the Laurel County Detention Center.