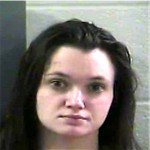 Laurel County, KY - Sheriff John Root is reporting that Sgt. Larry Parrott arrested Barbara Wilder, age 23, Highway 1223 Apartments, Corbin on Thursday night, January 28, 2016, at approximately 11:19 PM.
The arrest occurred at Walmart near Corbin in southern Laurel County after Walmart's loss prevention team detained this subject. When Sgt. Parrott arrived at the scene and conducted an investigation, he learned that this subject had allegedly been observed selecting items throughout the store, proceeding to self checkout and under ringing items and on other items, just leaving them in the basket and attempted to leave the store without paying for all the merchandise.
Total value of the theft was over $197. Items taken included Epsom salt, body oil, facial mask, coffee, body wash, wax, foundation, and other items.
Barbara Wilder was charged with theft by unlawful taking – shoplifting and was lodged in the Laurel County Detention Center. Photo attached is courtesy of the Laurel County Detention Center.