Laurel County, KY - Sheriff John Root is reporting that Deputy Josh Scott is investigating a single vehicle injury traffic crash which occurred on Thompson Poynter Road, approximately 3 miles west of London on Saturday afternoon, January 30, 2016, at approximately 1:33 PM.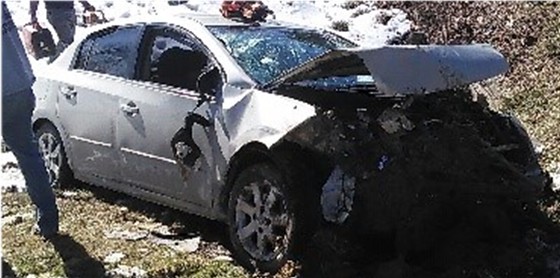 The investigating deputy reports that apparently the driver of a brown colored Nissan Sentra blacked out as she drove along the roadway. The vehicle traveled out of control over an embankment and came to rest.
The driver was identified as Alisia Rogers, age 39, Somerset. She was airlifted to the University of Kentucky Medical Center for treatment of injuries.
A passenger in the vehicle identified as Douglas McKee, age 27, of Science Hill received injuries and was transported to St. Joseph Hospital London for treatment. Assisting at the scene of the crash was Ambulance Inc. of Laurel County, London Laurel Rescue squad, and the Laurel County Fire Department. Occupants of the vehicle had to be extricated from their vehicle.
Photo of crash site provided by Deputy Josh Scott.