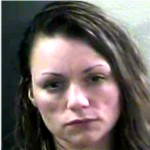 Laurel County, KY - Sheriff John Root is reporting that Deputy Kyle Gray arrested Samantha Doan, age 33, of South Main St., Corbin on Wednesday afternoon, February 3, 2016, at approximately 2:45 PM.
The arrest occurred at Walmart near Corbin in southern Laurel County after Walmart's loss prevention team detained this subject. When Deputy Gray arrived at the scene and conducted an investigation, he learned that this subject had allegedly been observed changing price tags on store merchandise and concealing store merchandise on her person – total value of the theft was $159.51.
Samantha Doan was charged with theft by unlawful taking – shoplifting. This subject was also charged on a Knox County bench warrant of arrest for failure to appear in court on traffic charges.
This subject was lodged in the Laurel County Detention Center.
Photo attached is courtesy of the Laurel County Detention Center.