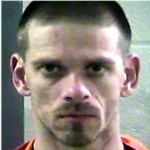 Laurel County, KY - Sheriff John Root is reporting that Sgt. Larry Parrott along with Deputy Tommy Houston arrested Nicholas Rucker, age 35, of Taylor Rd., Corbin, early Thursday morning, February 4, 2016, at approximately 4:57 AM.
US 25 approximately 9 miles south of London after deputies were dispatched to a complaint that a male subject was on a property of a business unlawfully. When deputies arrived at the scene and conducted an investigation, they determined that this subject was under the influence.
This subject stated that five guys were chasing him, however deputies could find no evidence that this was occurring. Nicholas Rucker was charged with criminal trespassing – third-degree; and public intoxication – controlled substances and was lodged in the Laurel County Detention Center.
Photo attached is courtesy of the Laurel County Detention Center.