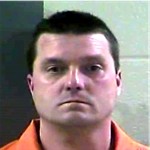 Laurel County, KY - Sheriff John Root is reporting that Deputy Rick Cloyd arrested Michael Allen, age 41, of Parkside Road, London, on Friday night, February 5, 2016, at approximately 7:42 PM.
The arrest occurred on US 25, approximately 6 miles south of London after Deputy Cloyd was dispatched to a three vehicle traffic crash where this subject was driving a black Suzuki Forenza.
While conducting the investigation, Deputy Cloyd detected a strong odor of alcoholic beverages emitting from this subject and determined that this subject was under the influence.
Michael Allen was charged with operating a motor vehicle under the influence – first offense and was lodged in the Laurel County Detention Center.
Photo attached is courtesy of the Laurel County Detention Center.