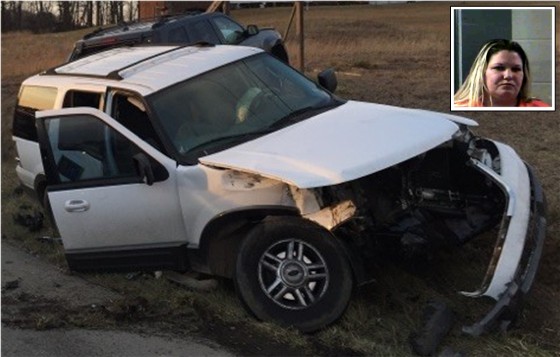 Laurel County, KY - Sheriff John Root is reporting that Deputy Kyle Gray arrested Kathy Bowling, age 42, of Lexington, KY, on Saturday evening February 6, 2016, at approximately 6:25 PM.
The arrest occurred on Keavy Road, approximately 11 miles south of London after Deputy Gray was dispatched to investigate an injury traffic crash on Highway 312 at Level Green Road.
When Deputy Gray arrived at the scene to conduct an investigation, he made contact with the driver of a white Ford Expedition and detected the odor of alcoholic beverages emitting from her and conducted an investigation.
This subject admitted drinking vodka prior to leaving a residence. This subject was determined to be under the influence. The driver of the other vehicle stated that this subject had ran a stop sign on Level Green Road at the intersection of Highway 312.
Kathy Bowling was charged with operating a motor vehicle under the influence – first offense; disregarding a stop sign; possession of open alcoholic beverage container in motor vehicle prohibited; careless driving; and other traffic violations and was lodged in the Laurel County Detention Center.
Inset photo of the accused is courtesy of the Laurel County Detention Center.