Laurel County, KY - Sheriff John Root is reporting that Deputy Kyle Gray investigated a two vehicle injury traffic crash which occurred on US 25, approximately 1 mile north of London, on Sunday afternoon February 7, 2016, at approximately 2:50 PM.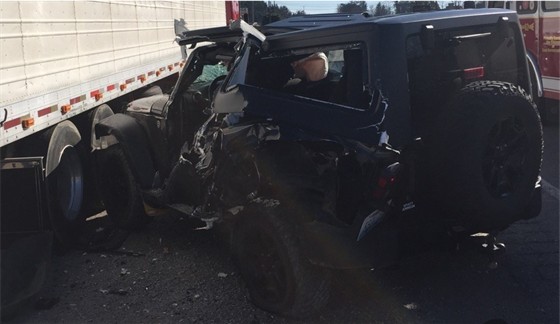 The Investigating Deputy reports that apparently a 2014 Jeep Wrangler was traveling southbound on the shoulder of US 25 and did not notice a semi truck and trailer parked on the side of the road and he ran his vehicle into the rear end of the semi trailer that was unoccupied.
The driver of the Jeep Wrangler was identified as Jeffrey McGhee, age 51, of HWY 490, East Bernstadt – transported by Ambulance Inc. of Laurel County to St. Joseph Hospital London for treatment of injuries. Deputy Gray determined through investigation that this subject was under the influence.
Deputy Gray cited Jeffrey McGhee for operating a motor vehicle under the influence. This subject was cited and not lodged due to injuries sustained in the crash. Assisting at the scene of the crash was East Bernstadt Volunteer Fire Department.
Photo of crash site provided by Deputy Gray.