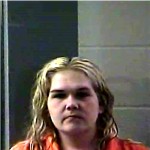 Laurel County, KY - Sheriff John Root is reporting that Deputy Kyle Gray along with Deputy Rick Cloyd and Deputy Jamie Grimes arrested Brandy Karner, age 34, of Moore Rd., London, on Sunday night, February 7, 2016, at approximately 8:58 PM.
The arrest occurred off Ralley Road, approximately 7 miles south of London after deputies were dispatched to a reported domestic complaint involving child custody.
When deputies arrived at the scene, they located this subject in the driver seat of a white Ford F-150 and conducted an investigation determining that this subject was under the influence.
Deputies also learned that this subject was at the residence there to pick up her nephew to take him to another residence. Brandy Karner was charged with operating a motor vehicle under the influence – first offense; failure to use child restraint device in vehicle; failure of owner to maintain required insurance – first offense; and other traffic violations and was lodged in the Laurel County Detention Center.
Photo attached is courtesy of the Laurel County Detention Center.