Laurel County, KY - Sheriff John Root is reporting that Deputy Craig Sutton along with Deputy John Inman investigated a two vehicle injury traffic crash occurred on I–75, approximately 1 mile south of London on Tuesday morning, February 9, 2016, at approximately 7:58 AM.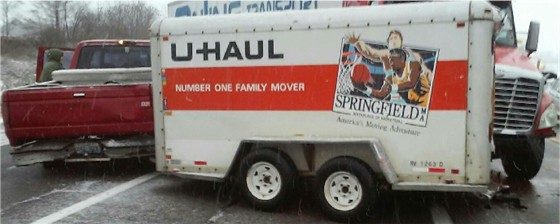 Investigating deputies report that apparently a Freightliner tractor-trailer traveling southbound on I–75 struck a utility trailer in the rear being pulled by a Ford F-150 pickup that was also southbound. The vehicles came to rest blocking all three southbound lanes.
The driver of the tractor-trailer was identified as Maxy Fuson, age 56, of Lexington, KY. – uninjured. The driver of the F-150 pickup was identified as Ernest Huddleston, age 38, of Williamsburg, KY. – transported by Ambulance Inc. of Laurel County to St. Joseph Hospital London for treatment of possible injuries.
Assisting at the scene of the crash was Laurel County Volunteer Fire Department and London Laurel Rescue Squad.
Photo of the crash site provided by Deputy Inman.