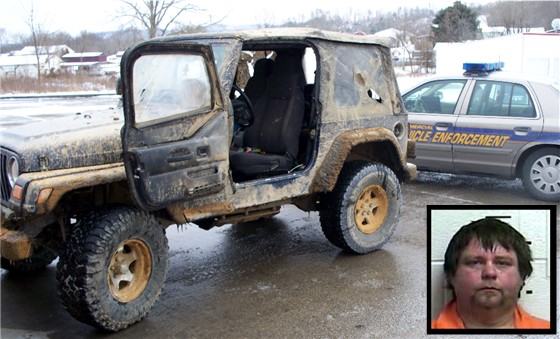 Corbin, KY - On Wednesday February 10th 2016 approximately 2:00 pm, KSP-Vehicle Enforcement Officer Chris McQueen observed a blue 2004 Jeep Wrangler driven by 43 year old Glennis Nantz of Woodbine KY on KY6 in Woodbine, driving without his seat belt.
Upon further investigation by McQueen, the 2004 Jeep wrangler had been stolen in January 2016 in Lexington KY.
Officer McQUEEN conducted a search of the vehicle in which officers found a bag of Crystal Meth located in a cirgarette box in the front drivers seat of the jeep. Officers also located suboxon strips in the pocket of Nanzt.
Upon arrival and booking at the Whitley County Detention Center, Deputy Jailers located another small bag of crystal meth hidden in the clothing of Nantz.
Nantz was charged with Failure to wear seatbelts, no registration, no insurance, Receiving stolen property over $10,000, Driving on a DUI suspended license-1st, License to be in Possession, Possession of Control Substance, 1st Off (Methamphetamine), Prescription Control substance not in proper container 1st Offense, and Promoting Contraband-2nd.
Officers who assisted at the scene were KSP-Vehicle Enforcement officers Brandon Durham and Toby Curry.
McQueen continues his investigation.
Vehicle photo provided by KSP.
Inset photo of the accused courtesy of the Whitley County Detention Center.