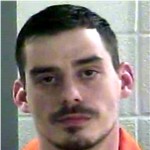 Laurel County, KY - Sheriff John Root is reporting that Sgt. Robbie Grimes along with Deputy Rick Cloyd arrested a Flat Lick man on Wednesday afternoon, February 10, 2016, at approximately 4:42 PM.
Arrested was Bo McVey, age 30, of Evergreen Road, Flat Lick, Kentucky. The arrest occurred at Walmart near Corbin in southern Laurel County after Walmart's loss prevention team detained this subject. When deputies arrived at the scene and conducted an investigation, they learned that this subject had allegedly been observed attempting to remove $21.76 worth of items from the store without paying.
While being processed, this subject became combative with loss prevention officers threatening them. Deputies determined that this subject was under the influence.
In addition, he was found in possession of suspected marijuana. He stated he had taken Suboxone earlier which he was prescribed. This subject was also found in possession of a Kentucky EBT card not assigned to him.
Bo McVey was charged with theft by unlawful taking – shoplifting; public intoxication – controlled substances; menacing; knowingly and fraudulently using ID card or electronic code for benefits; assault – fourth degree; and possession of marijuana.
Bo McVey was lodged in the Laurel County Detention Center. Photo attached is courtesy of the Laurel County Detention Center.