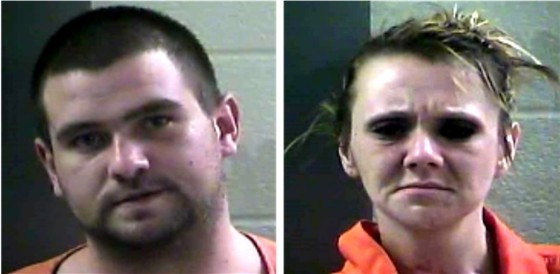 Laurel County, KY - Sheriff John Root is reporting that Sgt. Robbie Grimes along with Detective Kevin Berry arrested two individuals at Walmart near Corbin in southern Laurel County on Tuesday evening February 16, 2016 at approximately 6:24 PM.
The arrests occurred after Walmart's loss prevention team and Sheriff's deputies observed the two individuals concealing merchandise inside a female suspect's purse and shopping bags and attempted to leave the store without paying for the merchandise value over $143.
In addition, the female subject was found in possession of white colored pills in her purse identified as a schedule 5 drug. She advised that the pills were her dad's medication. This female subject was determined to be under the influence.
Arrested Was: Shawn Eversole age 24 Of Bentley Rd., East Bernstadt charged with theft by unlawful taking – shoplifting.
Also arrested was: Latasha Lynch age 25 of Portersburg Road, Manchester charged with theft by unlawful taking – shoplifting; public intoxication – controlled substances; possession of a controlled substance – third-degree; and prescription controlled substances not in proper container first offense.
In addition, Latasha Lynch was charged on a Knox County warrant of arrest charging receiving stolen property over $10,000 regarding a case investigated by Kentucky State police out of post 10 Harlan by Trooper Chad Gregory.
Both individuals were lodged in the Laurel County Detention Center.
Photos attached are courtesy of the Laurel County detention Center.