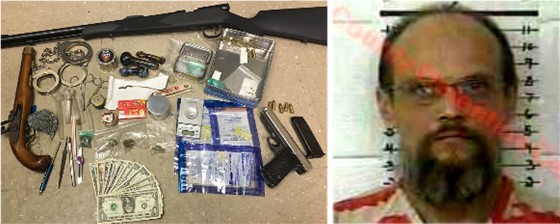 Corbin KY - Knox county Sheriff Mike Smith is reporting that on February 17, 2016 Deputy Keith Liford responded to a complaint of a possible Meth Lab at a residence on Watch Road in Corbin.
After contacting the owner, Deputy Liford conducted a search of the residence. During the search, Deputy Liford located and seized two small plastic bags of suspected methamphetamine powder, one small plastic bag containing suspected crystal methamphetamine, a small tin container of marijuana, scales, several used drug smoking type pipes and other drug paraphernalia, a small amount of cash, a loaded semi-automatic handgun and two black powder weapons.
After conducting an investigation, Deputy Liford arrested Utah Proffitt age 41 of Corbin, KY charging him with Possession of a Controlled Substance 1st Degree, Trafficking in Controlled Substance 1st Degree, Possession of Marijuana and Possession of Drug Paraphernalia.
Utah Profitt was lodged in the Knox County Detention Center.
Deputy Chad Wagner and Constable Redd Murphy assisted in the investigation.
Photo of the accused courtesy of the Knox County Detention Center.
Seizure photo from the Knox County Kentucky Sheriff's Department