Laurel County, KY - Sheriff John Root is reporting that Deputy John Inman and Deputy Gilbert Acciardo are investigating a two vehicle serious injury traffic crash which occurred on US 25 approximately 6 miles south of London on Friday afternoon February 19, 2016 at approximately 1:05 PM.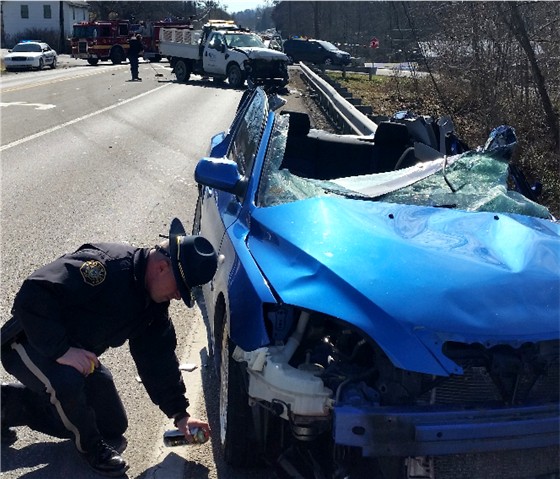 The investigating deputies report that apparently a blue colored Mazda car pulled out from Echo Valley Road in front of the path of a Ford F-350 utility truck that was traveling northbound on U.S. 25. The two vehicles collided on US 25 with the truck coming to rest near a guard rail on the west shoulder and the car coming to rest against the guard rail north of the impact. Both vehicles were blocking the southbound lane of U.S. 25.
The driver of the Mazda car had to be extricated from her vehicle and was identified as: Sara Hampton age 20 of Williamsburg – transported by Ambulance Inc. of Laurel County to Baptist Healthcare Hospital Corbin for treatment of critical injuries.
The driver of the F-350 utility truck was identified as: Billy Ray Allen age 23 of Bogg's Cemetery Road, London - Injured.
Assisting at the scene of the crash was Laurel Sheriff's Bailiff Robert Reed, Ambulance Inc. of Laurel County, Lily Volunteer Fire Department, and London Laurel County Rescue Squad.
Photos of crash site provided by Deputy Gilbert Acciardo.