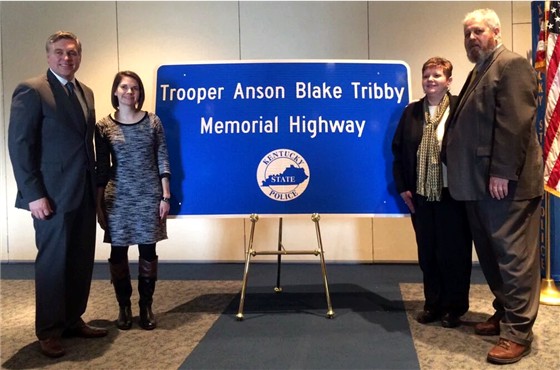 Justice Cabinet Secretary John Tilley (left) joined Mount Sterling-resident Rebecca Tribby, and Maysville residents-Bob and Pam Tribby on Friday, February 19, 2016, at the unveiling of a road sign in memory of Trooper 'Anson' Blake Tribby, a Kentucky State Trooper who perished as a result of a vehicle collision on January 22, 2013.
Mrs. Tribby is the widow of Trooper Tribby and Mr. and Mrs. Tribby are the parents of Trooper Tribby. While off duty, Trooper Tribby responded to a motor vehicle collision, struck a wrecker and perished as a result of the collision.
The sign will mark Interstate 64, from mile point 95 to mile point 105, which has been designated Trooper Anson Blake Tribby Memorial Highway by the Kentucky Transportation Cabinet.
"From the time a new cadet enters into the State Police Academy, they are told they are never really off duty. These comments are not only made to them in the academy but they are reinforced throughout their careers. These statements reflect our expectations, as a society, that police officers have obligations and responsibilities that are inherent to their positions, not their duty status" retired KSP Captain Brian Bowling said.