(FRANKFORT, Ky.) – The leader of the premiere law enforcement agency in Kentucky is retiring February 29, 2016 after 34 years of service to the agency.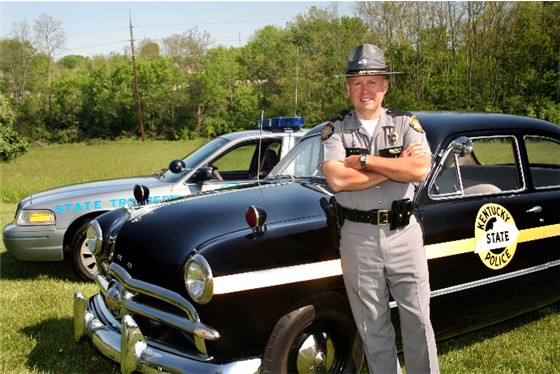 Rodney Brewer, who has served eight-and-one-half years as Commissioner, was appointed by former Governor Steve Beshear and sworn in December of 2007.
Brewer, who has served the Commonwealth with dignity, says his role as Commissioner has been an honor.
"My time spent as Commissioner of the Kentucky State Police has been the most rewarding of my professional life. The men and women who comprise our agency are some of the most dedicated public servants in the country and it has been an honor to lead such an incredible organization."
He led the agency through difficult times including budgetary challenges, construction of a new training academy and executing the merger of the Commercial Vehicle Division into the KSP fold.
"Despite the budgetary challenges we've experienced, our agency always delivers a high quality of service despite the circumstances," says Brewer. "I believe this is why our agency is so respected and revered across the United States. Our people are truly what make us great."
Several programs have been rolled out since Brewer took office, including the Citizen's Police Academy, Safe Schools Active Shooter Training Program and most notably, the creation of 'The Trooper R Class,' which by statute allows the re-employment of retired troopers.
He pioneered the law enforcement landscape with the implementation of the agency's social media initiative. Brewer's forward thinking allowed for the creation of several platforms including Facebook, Twitter, Instagram and a YouTube channel called 'KSP TV.' In three short years, the agency achieved a top-five national status of social media use by law enforcement agencies.
Under his watch, the number of yearly traffic fatalities in Kentucky have decreased, which he credits to the agency's 'Data Driven Enforcement Program' and the tremendous efforts of road troopers and officers. A reduction in crime, in rural areas, is a direct result of the Criminal Analyst Intel Program he established at each post.
Brewer graduated from the KSP Academy in January of 1980, when the starting yearly salary for a road trooper was $12,400 dollars, a loaf of bread was 55 cents and a gallon of gas was 93 cents.
"It's hard for me to believe that I've been a part of the Kentucky State Police for more than half of its existence. It's been an exciting journey and one that I'll treasure for a lifetime."
Brewer has had the rare accomplishment of holding every merit and non-merit rank position within the agency. Some of his assignments included uniformed operations, spe­cial investigations, narcotics, strategic planning, academy commander and the executive protection detail assigned to guard the Governor and Lieutenant Governor.
During his tenure, he served with many fine men and women, witnessed several acts of bravery and mourned the loss of comrades in the line of duty. For this reason, he worked diligently to establish a lasting legacy for the agency. Termed 'The Trooper Project,' he spearheaded a fundraising effort to build what is now a 10-foot tall, masterfully-crafted bronze trooper statue that stands proudly at the KSP Training Academy.
"This statue is a permanent tribute to the KSP troopers and officers who have made the ultimate sacrifice by giving their lives in service," says Brewer. "Moreover, it's about all those who have served since 1948 and made tremendous sacrifices on a daily basis."
As Brewer departs the agency he leaves behind a host of staff and co-workers.
"I'm definitely going to miss the people and purpose of the Kentucky State Police. There's no other job like it in the world, but I'm excited about what the future holds for me personally and professionally," adds Brewer.
Brewer plans to take a few months off before pursuing other career opportunities.
Photo: Commissioner Rodney Brewer is leaning against a 1949 KSP Patrol Cruiser..