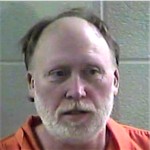 Laurel County, KY - Sheriff John Root is reporting that Deputy Kyle Gray arrested Jeffrey Pennington, age 50, of South Popular Ave., Corbin, on Tuesday evening, February 23, 2016, at approximately 4:57 PM.
The arrest occurred on Highway 363 in a business parking lot approximately 7 miles south of London after Deputy Gray was dispatched to a complaint of a vehicle that had been all over the road and the vehicle had pulled into a grocery store there.
When Deputy Gray arrived at the scene, he observed this subject get out of the driver's seat of the vehicle and stumbled toward the store. He then noted that this subject got back in the running vehicle and slumped over in the vehicle. Deputy Gray conducted an investigation and determined that this subject was under the influence.
Jeffrey Pennington was charged with operating a motor vehicle under the influence – first offense; failure of owner to maintain required insurance first offense; licensed to be in possession; and numerous other traffic violations and was lodged in the Laurel County Detention Center.
Photo attached is courtesy of the Laurel County Detention Center.