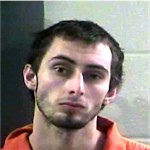 Laurel County, KY - Sheriff John Root is reporting that Deputy Kyle Gray arrested Preston Estep, age 20, of Devils Neck Rd., Corbin, on Tuesday night, February 23, 2016, at approximately 7:45 PM.
The arrest occurred 9 miles south of London off American Greeting Card Road after this subject was charged on 2 Laurel County bench warrants of arrest for failure to appear in court regarding charges of operating a motor vehicle under the influence, possession of marijuana, license to be in possession, alcohol intoxication in a public place, and disorderly conduct – second-degree.
Preston Estep was lodged in the Laurel County Detention Center.
Photo attached is courtesy of the Laurel County Detention Center.