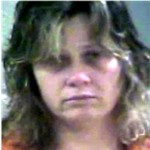 Laurel County, KY - Sheriff John Root is reporting that Deputy Kyle Gray arrested Marsha Fox, 39, of Hollow View Rd., Corbin, on Saturday night, February 27, 2016, at approximately 5:45 PM.
The arrest occurred off Hollow View Rd., approximately 8 miles south of London after deputies were dispatched to a complaint of a subject intoxicated and fighting with family.
Upon arrival, Deputy Gray located this subject creating a disturbance and yelling curse words at family and neighbors. Deputies determined that this subject was under the influence. It was also determined that this subject had apparently assaulted a family member.
Marsha Fox was charged with public intoxication – controlled substances; disorderly conduct – second degree; and assault – fourth degree – domestic violence and was lodged in the Laurel County Detention Center.
Photo attached is courtesy of the Laurel County Detention Center.