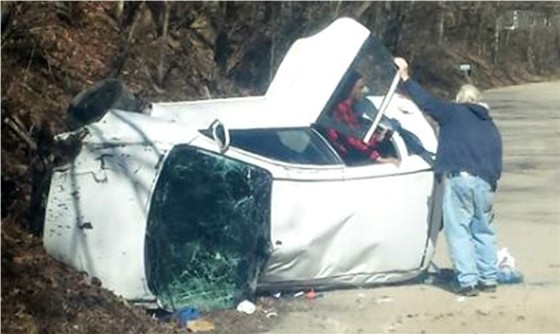 Clay County, KY - On Monday February 29, 2016 a Roots Branch resident died as the result of what appears to have been a single vehicle crash, however this is not an official police press release and will be updated if & when we learn more.

According to Clay County Coroner Danny Finley:
Tracey Hubbard age 26 of Roots Branch died at the scene and her husband Sherman was transported to Manchester Memorial Hospital after losing control of their vehicle Monday evening near their home.
ClayCoNews has obtained a photo of the scene from a source that say they arrived at the crash sometime after 3:00 P.M. and called 911. They also tell us that the Kentucky State Police, the Clay County Sheriff's Department and EMT personnel quickly responded.
In addition, our source said that the individual seen exiting the vehicle in this photo left the scene before the police and EMTs arrived.
Tracey Rechelle Hubbard was a Dietary Aid at the Laurel Creek Nursing Home.