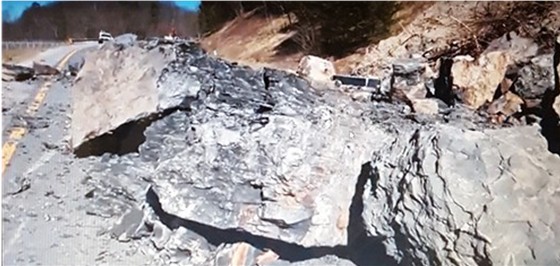 KNOXVILLE, Tenn. – The Tennessee Department of Transportation awarded an emergency contract on Monday, February 29, to repair a rockslide on Interstate 75 in Campbell County.
The slide, which occurred Friday at mile marker 142, sent vehicle-sized rocks falling onto both the northbound and southbound lanes of I-75.
The $2.9 million contract was awarded to Charles Blalock and Sons, Inc. The contract includes removal of the slide debris, stabilization of the existing slope, and repairs to the interstate. The contract also stipulates the southbound lanes of I-75 will be reopened within 14 days and one lane on the northbound side will be reopened within 21 days. The entire repair project is scheduled to be complete on or before April 15, 2016.
Currently, this section of I-75 remains closed in both directions. During the closure, all traffic will be detoured. Message boards are already in place on I-75 to alert motorists to the road closure. Drivers are advised to plan ahead and seek alternate routes.
Motorist Detours (standard vehicles)
Motorists traveling I-75 South can take Exit 160 (Jellico). Follow US 25W / SR 297 West to SR 63 South, and then re-enter I-75 South.
Motorists traveling I-75 North can take Exit 134 (Caryville/Lafollette). Follow US 25W north to Lafollette, continuing to Jellico, and then re-enter I-75 North.

Wide-Load and Alternate Motorist Detours
Wide-load traffic traveling I-75 South can take Exit 29 (Corbin) in Kentucky. Follow US 25E into Tennessee, and enter I-81 at Exit 8 (Morristown/White Pine).
Wide-load traffic traveling I-75 North can take I-40 East to I-81 North Exit 8 (Morristown/White Pine). Follow US 25E, and enter I-75 at Exit 29 (Corbin) in Kentucky.

###

Related LinksI-75 Closed in Campbell County Due to Rockslide