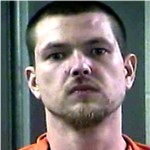 Laurel County, KY - Sheriff John Root is reporting that Deputy John Inman arrested Jarrod Traylor, age 31, of Timberland Cir., Lily, early Thursday morning, March 3, 2016, at approximately 9:44 AM.
The arrest occurred off KY 770 approximately 12 miles south of London after Deputy Inman was dispatched to a complaint of a suspicious male subject wandering around area businesses there that appeared to be under the influence.
When Deputy Inman arrived at the scene and conducted an investigation, he determined that this subject was under the influence.
Jarrod Traylor was charged with public intoxication – controlled substances, and was lodged in the Laurel County Detention Center.
Photo attached is courtesy of Laurel County Detention Center.