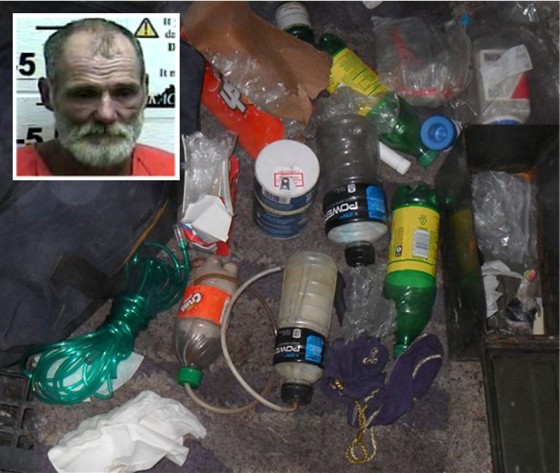 Whitley County, KY - The Whitley County Sheriff's Department is reporting that at around 2:00 A.M. on Saturday, March 5, 2016, Deputy Jonas Saunders was in the Canada Town community when he received a tip referencing the possible manufacture of methamphetamine.
Acting upon the information, Dep. Saunders went to a Clifford Canada Road residence, and at a camper trailer he made contact with 47-year-old Ronald Canada.
At that location, Dep. Saunders sensed a strong chemical odor. Further investigation revealed plastic tubing and bottles. Inside a bottle was a substance believed to be methamphetamine. Also located were approximately 20 pills believed to be clonazepam, seven pills believed to be Neurontin and four Suboxone films.
Under a bed, a black bag was located containing what was considered an active meth lab. Member's of Kentucky State Police's Drug Enforcement and Special Investigations (DESI) unit responded to secure and properly dispose of the lab.
Canada was arrested and is charged with first-degree manufacturing methamphetamine, third-degree possession of a controlled substance, second-degree possession of a controlled substance, and possession of a prescription controlled substance not in its original container.
Mr. Canada was also arrested for three warrants out of Whitley County.
He was lodged in the Whitley County Detention Center.
Inset photo courtesy of the Whitley County Detention Center.