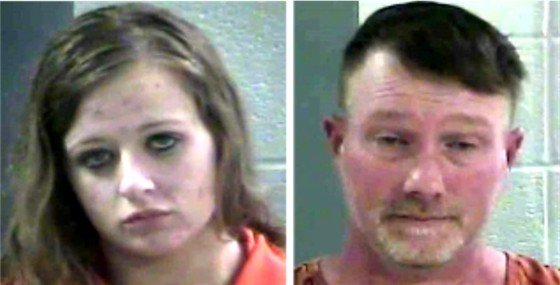 Laurel County, KY - Sheriff John Root is reporting that: Sgt. Larry Parrott along with Deputy Tommy Houston arrested two individuals – one in a motel parking lot and the other inside the motel after receiving a complaint that a male and female subject that appeared to be intoxicated were fighting there, 11 miles south of London early Wednesday morning March 9, 2016 at approximately 1:16 AM.
When deputies arrived at the scene they observed the female subject pull into the parking lot driving a red colored GMC Sierra pickup.
Deputies detected a strong odor of alcoholic beverages emitting from the driver and conducted an investigation on this subject – this subject admitted to drinking and taking Percocet and stated she had smoked methamphetamine a day earlier. Investigation determined that she was under the influence.
Arrested was: Dakota Humfleet age 22 of Otter Creek Rd., Winfield, TN charged with operating a motor vehicle under the influence – first offense; possession of open alcoholic beverage container in motor vehicle prohibited; no operator's license; no registration plates; failure of non-owner operator to maintain required insurance – first offense; and failure to wear seatbelts.
As the investigation continued deputies located the male subject allegedly involved in the incident and learned from the male subject that apparently the argument had occurred over a debit card.
The male subject stated that he had taken Klonopin, Suboxone strips, and three beers. Investigation determined that this subject was under the influence.
Arrested was: Randy Brockman age 43 of Pine Haven Drive, Keavy charged with public intoxication – controlled substances.
The two individuals were lodged in the Laurel County Detention Center.
Photos attached are courtesy of the Laurel County dDetention Center.