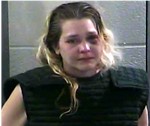 Laurel County, KY - Sheriff John Root is reporting that Sgt. Larry Parrott along with Deputy Jamie Grimes were dispatched early Thursday morning March 10, 2016 to a complaint that a female subject was in a parking lot yelling and creating a disturbance.
Ashley W. Gray age 27 of Robert E. Cox Road Apartments, Corbin was arrested at approximately 12:56 A.M. off Pine Grove Road, approximately 9 miles south of London.
When deputies arrived at the scene and conducted an investigation, they learned that this subject allegedly had abandoned her four-year-old son in her apartment and neighbors found him unresponsive in the apartment, and took the child to another apartment and called 911.
Deputies determined through investigation that this subject was under the influence – she admitted to smoking methamphetamine and when placed under arrest she began to fight with deputies and following a brief struggle with deputies was taken into custody.
Deputies noted that this subject was also seeing and hearing things.
Ashley W. Gray was charged with public intoxication – controlled substances; disorderly conduct – second degree; resisting arrest; and wanton endangerment - 2nd degree.
Ashley W. Gray was lodged in the Laurel County Detention Center.
Social services was called and placed the child, who was alert and talking, with other relatives.
Photo attached is courtesy of the Laurel County Detention Center.