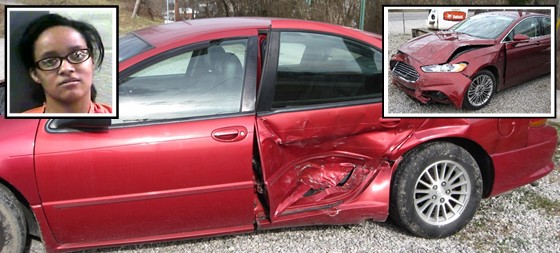 Laurel County, KY - Sheriff John Root is reporting that: Deputy Craig Sutton investigated a three vehicle injury hit and run traffic crash which occurred on U.S. 25 approximately 1 mile north of London on Wednesday afternoon March 9, 2016 at approximately 3:47 PM.
The investigating deputy reports that apparently a maroon colored 2003 Chrysler Concorde pulled out from a business and pulled out in the path of a southbound brown colored 2014 Ford Fusion, colliding with it causing severe damage to the Ford Fusion.
The Chrysler Concorde failed to stop at the scene of the crash, and continued southbound on U.S. 25 at a high rate of speed. As the Chrysler Concorde approached stopped traffic, she swerved her vehicle to the right apparently to avoid colliding with the stopped traffic traveling off the roadway into the ditch throwing debris onto a northbound 2011 Gold colored Chevrolet Malibu causing damage to the front bumper and roof area.
The Chrysler Concorde continued to flee into London turning onto 16th St. and then Mill Street and through assistance from personnel at TJ's towing the vehicle stopped off the roadway until deputies arrived at the scene.
Deputy Sutton conducted an investigation and identified the drivers of the vehicles:
The maroon colored Chrysler Concorde was driven by Betty Lay age 30 of Scott Street Apartments, London with her 2 young children in the back seat of her vehicle. – No injuries reported. Deputy Sutton arrested Betty Lay charging her with leaving the scene of an accident and lodging her in the Laurel County Detention Center. Her children were released to day care personnel. This subject stated that she was scared and that's why she fled the scene of the accident.
The 2014 brown colored Ford Fusion was driven by Connie Patton age 68 of London – transported by private vehicle to St. Joseph Hospital London for treatment of injuries.
The gold colored 2011 Chevrolet Malibu was driven by Donna Baker age 39 of Old Crab Orchard Rd., London – no injuries reported.

Assisting on the investigation was Laurel Sheriff's Sgt. Robbie Grimes and Deputy Brandon Broughton. Also assisting was KSP Trooper Ben Graves.

Photos provided by Deputy Craig Sutton.

Inset photo of the accused courtesy of the Laurel County Detention Center.