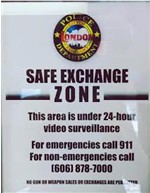 LONDON KY—The London Police Department's front lobby has now been designated as a Safe Exchange Zone. The front lobby is open and under 24 hour surveillance, seven days a week.
Many people today buy or sell items online and meet in person to finalize the sale. The London Police Department's effort in providing a designated Safe Exchange Zone is to assist in the deterrence of fraudulent transactions as well as increase the safety of those exchanging items. This site helps limit the exchange of personal information or the potential dangers of meeting a stranger in a random location that may not be monitored. No gun or weapon sales or exchanges are permitted.
The video monitors are in the London Police Department's lobby that is shared with the 911 Communications Center, where telecommunicators are on duty 24 hours a day, seven days a week. There is also a constant presence of law enforcement officers.
Before making a "safe exchange" in the monitored lobby, we suggest you notify a friend or family member where you are going and when they should expect you back. If possible, have someone accompany you, and make sure you have your cell phone with you. Remember, buyers and sellers online are strangers and can pose dangers.
The London Police Department is not responsible for the validity of transactions, and will not be involved nor oversee, the business conducted amongst participating parties. For more information on the Safety Exchange Zone call (606) 878-7004. While the lobby is open 24/7, the Department's receptionist is available 9 a.m. – 5 p.m. Monday through Friday. For emergencies dial 9-1-1 and for non-emergencies call (606) 878-7000.