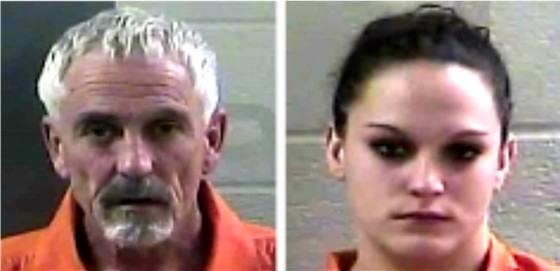 Laurel County, KY - Sheriff John Root is reporting that: Deputy Rick Cloyd observed a tan colored Ford speed through a stop sign on US 25W at Beatty Avenue, and was also observed driving 60 plus miles per hour in a 35 mph zone.
The vehicle was passing several cars on the wrong side of the road and struck a vehicle head-on on the Cumberland Gap Parkway causing injuries to the other driver. The driver then fled on foot from the scene of the crash but was apprehended by deputies nearby.
Arrested was: Joseph Money age 57 of Terrell Road, Corbin,KY on Sunday night March 20, 2016 at approximately 9:06 PM.
The arrest occurred on West Cumberland Gap Parkway, approximately 10 miles south of London.
Deputies assisting at the scene included Deputy Brandon Broughton, Deputy Kyle Gray, and Detective Jason Back.
Joseph Money was charged with speeding – 25 mph over the limit, disregarding a stop sign, improper passing, fleeing or evading police – first-degree – on foot, fleeing or evading police – second-degree – on foot, operating a motor vehicle under the influence – first offense, operating on suspended or revoked operator's license and assault – first-degree.
This subject was found in possession of 10.46 grams of crystal methamphetamine and a large amount of US currency and was also charged with trafficking in a controlled substance – first-degree – first offense – methamphetamine.
Also arrested at the scene of the injury traffic crash by Deputy Kyle Gray and Deputy Brandon Broughton was:
Christina Michelle McCormick age 22 of Terrell Street, Corbin, charged with disorderly conduct – second-degree and resisting arrest.
Allegedly, this subject came to the scene of the injury collision driving a gold colored Chrysler Limited, and became very irate and started yelling and screaming and creating a disturbance at the collision scene.
Deputies attempted to calm this subject down, however she escalated the situation and continued to create a bigger disturbance. When arrested this subject began struggling with deputies and attempted to get away but after a short struggle was taken into custody.
Christina Michelle McCormick was also found to be wanted on a Whitley County bench warrant of arrest for failure to appear in court regarding numerous traffic violations. Deputies also charged this subject on numerous traffic violations including disregarding a traffic control device – traffic light, failure to signal, reckless driving and other traffic violations.
The two individuals were lodged in the Laurel County Detention Center.
Photos attached are courtesy of Laurel County Detention Center.