Laurel County, KY - Sheriff John Root is reporting that Deputy Keith Dinsmore along with Deputy Tommy Houston and Detective Kevin Berry arrested a married couple early Sunday morning, March 27, 2016, at approximately 3 AM.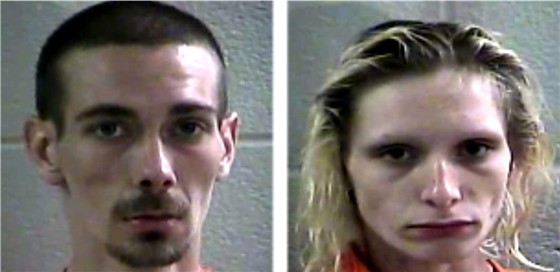 The arrest occurred off Echo Valley Road, approximately 8 miles south of London, after deputies were dispatched to a complaint of a green colored Ford Expedition parked in a driveway with the engine running. Neighbors at the residence did not know the individuals or the vehicle.
The first deputy to arrive at the scene, Deputy Keith Dinsmore, found two individuals passed out, and arrested the two occupants of the vehicle for being under the influence, and also noticed a two-year-old male infant in the backseat that appeared to be unresponsive.
Ambulance Inc. of Laurel County was called to transport the child to St. Joseph Hospital London to determine the child's condition. The infant was later released from the hospital as being okay and placed on a prevention plan by social services and placed with other relatives.
Deputies also learned from the female subject arrested that she and her husband had allegedly been using meth, Percocets, and smoking marijuana earlier in the day.
Arrested was the driver of the vehicle – Joshua Grigsby, age 25, of Engineer St., Corbin, charged with operating a motor vehicle under the influence – first offense; criminal abuse second-degree child 12 or under; wanton endangerment – first-degree; booster seat violation and numerous traffic violations.
Also arrested was the drivers wife identified as Kayla Grigsby, age 21, of Engineer St., Corbin, charged with public intoxication - controlled substances and criminal abuse – first-degree – child 12 or under.
The two individuals were lodged in the Laurel County Detention Center. Photos attached are courtesy of the Laurel County Detention Center.