Laurel County, KY - Sheriff John Root is reporting that Sgt. Robbie Grimes investigated a two vehicle injury traffic crash which occurred on US 25, approximately 8 miles south of London on Saturday night, March 26, 2016, at approximately 8:07 PM.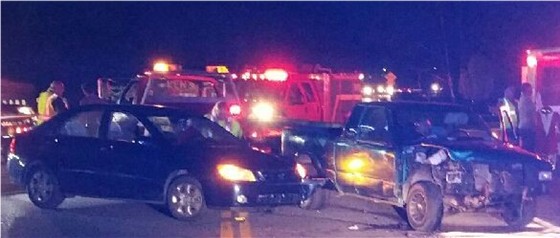 The investigating deputy reports that apparently a blue colored Kia Spectra pulled out from Lily Road in front of the path of a green colored Chevrolet pickup that was traveling southbound on US 25. A collision occurred on US 25 between the two vehicles.
The driver and only occupant of the blue colored Kia Spectra was identified as Hiram Lewis, age 78, of Queens Rd., Corbin -- transported by Ambulance Inc. of Laurel County to Baptist Healthcare Hospital Corbin for treatment of possible injuries.
The driver of the green colored Chevrolet pickup was identified as Russell Beavers, age 44, of Ann Ln., Rockhold, KY -- not injured.
A passenger in this vehicle identified as Aretha Claxton, age 38, of Ann Lane, Rockhold, KY -- airlifted by PHI helicopter to UK hospital in Lexington for treatment of possible injuries.
Assisting at the scene of the crash was Lily Volunteer Fire department, London Laurel Rescue squad, and Justin Noe with DPS.
Photo of crash site provided by Sgt. Robbie Grimes.