(THURMONT, MD) – After six months, Maryland state troopers have not given up their search for the hit and run driver who struck and killed a U.S. Marine who had stopped to help a disabled motorist along Rt. 15 in Frederick County.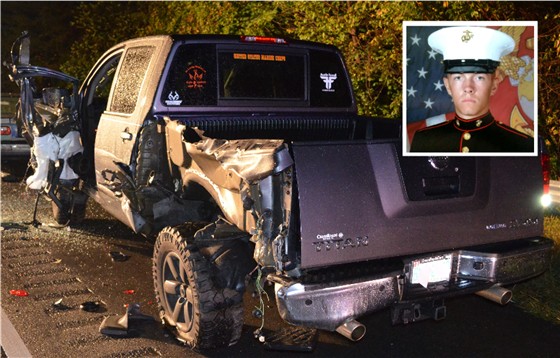 United States Marine Corps Corporal William Ferrell, 21 (inset ), of Carthage, N.C., was struck and killed shortly before 11:00 p.m. on September 29, 2015, on northbound US Rt. 15, north of Auburn Road, in Thurmont, Md. Cpl. Ferrell was assigned to the Naval Support Facility in Thurmont and worked at Camp David.
The investigation indicates Cpl. Ferrell had stopped in his 2012 Nissan Titan to help a motorist whose vehicle was disabled during a heavy rain storm. Evidence indicates Ferrell was standing outside of his truck on the highway shoulder when an unknown vehicle struck him, causing fatal injuries. The vehicle also struck the Cpl. Ferrell's pickup, causing significant damage.
Information developed by State Police Crash Team investigators continues to indicate the striking vehicle was a heavy duty pick-up truck with a dual wheel axle. Troopers believe the truck was towing a car hauler trailer and was most likely a 'goose neck' type trailer. Investigators say damage to the striking vehicle may have been confined to the trailer and if there is damage to the pick-up truck, it is probably minor.
When Cpl. Ferrell was struck, the driver of the vehicle that was disabled went into traffic to divert oncoming vehicles away from the Marine's body. At least two vehicles passed that driver before a tractor trailer was able to block both lanes of northbound Rt. 15. Police believe both those vehicles drove past the suspect's truck and trailer because the hit and run driver briefly pulled to the side of the road north of the crash scene before continuing north. Troopers are hoping both those drivers will contact them and provide any information they have about the striking vehicle.
Rewards for information leading to the arrest and conviction of the driver responsible continue to be offered by Metro Crime Stoppers, the National Warriors Foundation, and the Maryland Troopers Association.
Anyone with information is urged to contact Metro Crime Stoppers at 1-866-7LOCKUP, or 1-866-756-2587. Phone calls are not recorded and callers may remain anonymous.
Pictured is Cpl. Ferrell's vehicle after it was struck by the hit and run driver on Rt.15.