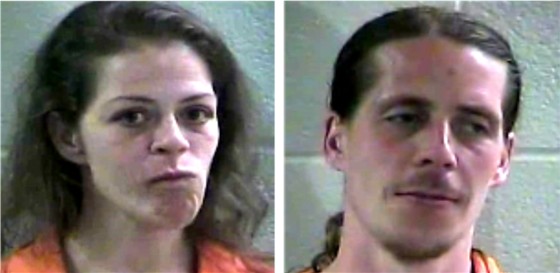 Laurel County, KY - Sheriff John Root is reporting that: Deputy Kyle Gray arrested two individuals off Foley Road, approximately 11 miles south of London on Monday night April 4, 2016 at approximately 8:05 PM.
Deputy Gray was dispatched to a complaint that a female subject was at a residence and was refusing to leave.
Upon arrival Deputy Gray located the subject at the residence where she had been evicted. She was back at the residence and refused to leave. Deputy Gray determined that the subject was under the influence of a controlled substance – the subject admitted to taking Suboxone earlier.
Arrested was:
Heather Victoria Nolan age 35 Of Foley Road, Corbin, KY charged with Criminal Trespass – second-degree and Public Intoxication – controlled substances.
Victor Kevin Nolan age 37 of White Mountain road, Arjay, KY charged on a Harlan County bench warrant of arrest for failure to appear in court on charges of operating a motor vehicle under the influence and traffic violations.
The two individuals were lodged in the Laurel County Detention Center.
Photos attached are courtesy of the Laurel County Detention Center.