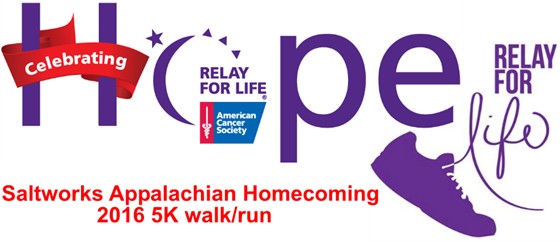 CCN Staff Report: April 14, 2016
Manchester, KY - The Clay County Cancer Coalition is partnering with the Saltworks Appalachian Homecoming 2016 to have a 5K walk/run beginning and ending at the Pioneer Village at Y Holler in Manchester, Kentucky.
Proceeds from the fundraising Memorial Day weekend event will benefit cancer patients in Clay County.
All pre-registered participants will be provided a tee-shirt.
Pre-Registration for 12 years of age and under participants is $10.
Pre-Registration for participants age 13 years old and up is $20.
Pre-Registration ends May 11th. Registration is available online at at eventbrite.com.
Registration on the day of the race is $25 with no guarantee of a tee-shirt.
Registration for participants begins at 8:00 am on race day: Saturday, May 28th.
Straight Outta' the Creek Relay for Life Zumbathon will take place on Saturday, April 30th from 2:00 pm till 4:00 pm at the Clay County Middle School.
$10 donation from participants requested.
All proceeds benefit the Clay County Relay for Life.
For information contact Tammy Lawson at the Laurel Creek Health Care Center at 598-6163.