Laurel County, KY - Sheriff John Root is reporting that Deputy Tommy Houston arrested two individuals early Sunday morning, April 17, 2016, at approximately 3:47 AM.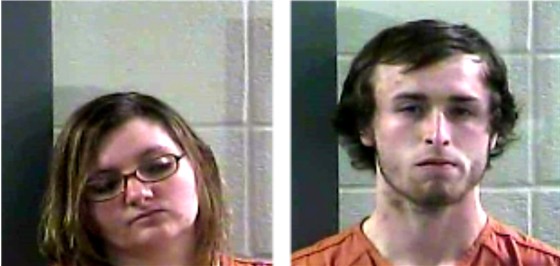 The arrests occurred on Sasser School Road, approximately 5 miles east of London after Deputy Houston observed a black colored Nissan Altima make a right turn without the use of a turn signal.
In addition, the vehicle was operating with only one headlight. A traffic stop was conducted and Deputy Houston conducted an investigation learning that the driver was operating on a suspended operator's license.
Also, this subject appeared to be under the influence and an investigation was conducted and the driver was determined to be under the influence – she stated she had taken meth earlier.
Arrested was Tabitha Hooker, 26, of Litton Town Rd., East Bernstadt, charged with operating a motor vehicle under the influence – first offense; operating a suspended or revoked operators license; one headlight; failure to signal; and numerous other traffic violations.
Also arrested was a passenger, Tyler Simpson, age 21, of Little Laurel Rd., London charged with public intoxication – controlled substances and possession of drug paraphernalia – this subject was found to be in possession of a glass pipe and admitted to taking meth and marijuana.
Both were lodged in the Laurel County Detention Center.
Photos attached are courtesy of the Laurel County Detention Center.