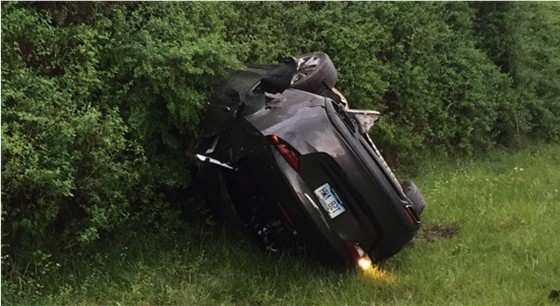 Laurel County, KY - Sheriff John Root is reporting that: Sgt. Larry Parrott investigated a single vehicle multiple injury traffic crash which occurred on I-75, approximately 7 miles south of London on Wednesday night April 27, 2016 at approximately 7:41 P.M.
The investigating deputy reports that apparently a black colored 2015 Chrysler 200 series was traveling northbound on I-75 in the left hand lane during heavy rain with water pooling on the roadway.
The driver stated that the vehicle began to hydroplane, began to slip sideways and then traveled out of control off the right side of the roadway, flipping on it's side before coming to rest.
The driver of the vehicle was identified as:
Brittney Neal age 23 of Dry Ridge, KY with two passengers Gregory Gordon age 19 of Dry Ridge Ky and a three-year-old male child. All three individuals were injured and were transported by Ambulance Inc. of Laurel County to St. Joseph Hospital London for treatment of injuries.
Also assisting at the crash site was London Laurel Rescue Squad and West Knox Volunteer Fire Department.
Photo of crash site provided by Sgt. Larry Parrott.