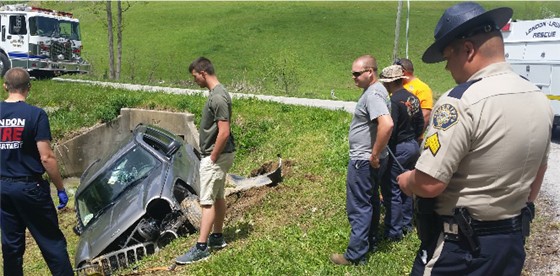 Laurel County, KY - Sheriff John Root is reporting that: Sgt. Brett Reeves along with Deputy Rick Cloyd and Deputy Gilbert Acciardo are investigating a single vehicle injury traffic crash which occurred on Ky 472, approximately 4 miles east of London on Thursday afternoon April 28, 2016 at approximately 12:50 PM.
The investigating deputies report that apparently a gold colored jeep liberty was traveling eastbound on Ky 472 when he ran off the roadway in a left-hand curve, traveling over a culvert and an embankment and came to rest partially on its side.
The driver was identified as Robert Bundy age 56 of Collier Road, London – this subject was transported by Ambulance Inc. of Laurel County to a landing zone in front of North Laurel Middle school and airlifted by Phi helicopter to UK Medical Center for treatment of possible injuries.
He told deputies he had drank about 14 beers. A female passenger in the vehicle was transported by Ambulance Inc. of Laurel County to London St. Joseph Hospital for treatment of possible injuries.
Following an investigation conducted by deputies at the scene, the driver of the vehicle – Robert Bundy-- was charged by Deputy Rick Cloyd with operating a motor vehicle under the influence, 1st offense, and no operator's license.
This subject was cited to Laurel District Court because he was airlifted to UK Hospital in Lexington for treatment of injuries.
Assisting at the scene of the crash was Ambulance Inc. of Laurel County, Laurel County Volunteer Fire department, and London Laurel Rescue Squad.
Photo of crash site provided by Deputy Gilbert Acciardo.