Manchester, KY - VIZADOC, LLC (Visual Data & Design) an engineering & document services company in Manchester, KY is looking to hire 20 full-time data entry personnel.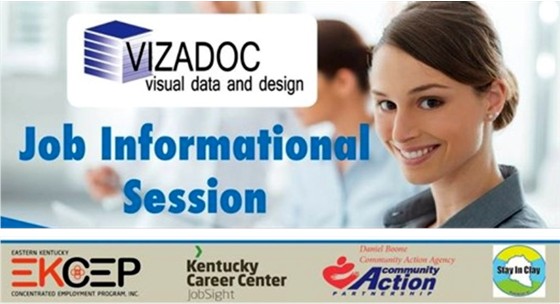 There will be a "Job Informational Session" this Thursday, May 5th at 1 pm at the VIZADOC location in the Manchester Square Shopping Center, just off the Hal Rogers Parkway. The offices are located upstairs next door the Appalachian Wireless. A training timeframe will be provided. Wages are $10. per hour. The tentative start date for the new hires is Monday, May 9th.
Applicants should have good basic computer skills such as Word, Powerpoint & Auto CAD would be a plus. Also, applicants should pay close attention to detail.
Applicants are encouraged to bring resume, driver's license & social security card.
For additional information, please contact Phillip Arnett at Daniel Boone CAA .
Vizadoc is very passionate about the "Stay in Clay" initiative and this organization has partnered on this event.
* * * * *
Please notice full flyer below!