Laurel County, KY - Sheriff John Root is reporting that Deputy Craig Sutton participated in a Career Day event for Kindergarten through 2nd grade at Bush Elementary School on Tuesday afternoon May 3rd, 2016.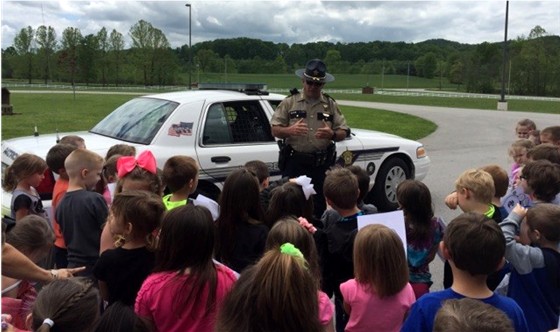 The event was coordinated by Debbie Burchell, a teacher there. Deputies provided a safety talk about the many services that the Laurel County Sheriff's Office provides.
In addition, deputies gave students a chance to look at a fully marked - fully equipped deputy's police car.
The LSO Deputies enjoyed their interaction with all the students of Bush School.
Sheriff Root appreciates the opportunity for his deputies to participate and interact with Laurel County children stating that: "Our young people are the future leaders of our county."
Pictured are students from Bush Elementary School and Deputy Craig Sutton..