(LONDON, KY.) – On Tuesday, May 03, 2016 at approximately 7:00 PM, Trooper Ben Graves stopped a 2010 Nissan Altima for a minor traffic violation on KY HWY 552 in the Lily Community of Laurel County.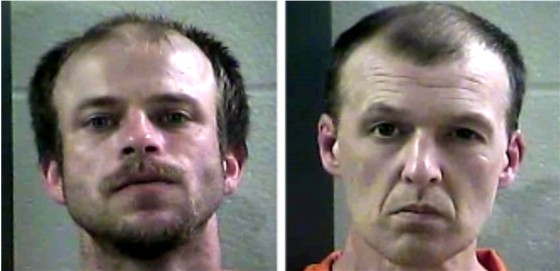 After a roadside interview was conducted, Trooper Graves discovered the operator Don F. Smallwood, 31, of London was operating a motor vehicle on a suspended license and had a Laurel County bench warrant for his arrest.
During a search of the vehicle, a tin container was located in the back seat containing suspected methamphetamine and marijuana along with drug paraphernalia and US currency.
Smallwood, was arrested at the scene and charged with the Laurel County Bench Warrant and numerous traffic charges.
His passenger Richard Kilgore, 41, of London was arrested at the scene and charged with Public Intoxication, Possession of Drug Paraphernalia, Trafficking in Marijuana ( Les than 8 oz 1st Offense ), Trafficking in a Controlled Substance 1st Degree, 1st Offense and Illegal Possession of a Legend Drug.
Both men were lodged in the Laurel County Detention Center.
Trooper Graves is continuing the investigation.
Photos courtesy of the Laurel County Detention Center.