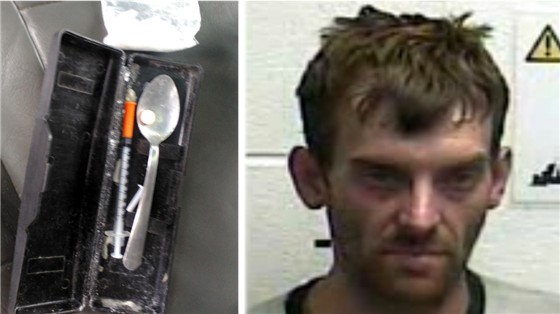 Whitley County, KY - The Whitley County Sheriff's Department is reporting that at around 4:00 p.m. May 8, 2016, Deputy Jonas Saunders responded to Bell's Country Store after Whitley County E911 received a call about a man reportedly passed out in an SUV with children present.
Dep. Saunders arrived and found 29-year-old Derek Christopher Mills not alert behind the wheel of a Chevrolet Trailblazer. In the SUV were two children under the age of 10.
Mills showed signs of being under the influence. Williamsburg Police Department K9 Officer Elijah Hunter responded, and his K9 alerted to the presence of illegal substances. A search of the vehicle revealed a crystal substance believed to be "ice" methamphetamine and drug paraphernalia, including a hypodermic needle, in the vehicle's console.
The substance believed to be meth was weighed at approximately nine grams. Also located was one pill believed to be Suboxone.
Mills was arrested and is charged with first-degree trafficking in a controlled substance (meth), two counts of wanton endangerment, possession of drug paraphernalia, second-degree possession of a controlled substance, public intoxication, improper registration and expired registration.
Social services responded to ensure the safety of the children.
Sergeant Kirk Mays assisted.
Article source & drug paraphernalia photo: Whitley County Sheriff's Department
Photo of accused courtesy of the Whitley County Detention Center where he is currently lodged.