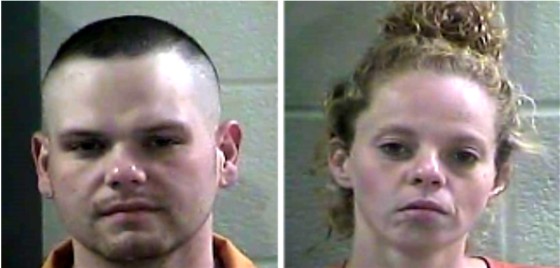 Laurel County, KY - Sheriff John Root is reporting that: Sgt. Larry Parrott along with Deputy Jamie Grimes arrested two individuals at Emma's Place Apartments off Pine Grove Road, approximately 8 miles south of London early Thursday morning May 5, 2016 at approximately 12:36 AM.
The arrests occurred after deputies were dispatched to a complaint that subjects were possibly breaking into an apartment there. When deputies arrived at the scene they observed two subjects leave one apartment and walk across to another apartment.
Deputies conducted an investigation and learned that the male subject was wanted on an outstanding bench warrant of arrest. In addition, the female subject was determined to be under the influence – she admitted to smoking marijuana and drinking and stated that she took neurotin.
The two individuals were arrested and are identified as:
Chad Martin age 29 of Kentucky Ave., Corbin charged on a felony Laurel County bench warrant of arrest charging failure to appear in court on charges of escape – third-degree. In addition, this subject was found to be in possession of a baggie in a hidden compartment in his wallet containing a white crystal substance determined to be meth.
Carrie Price age 26 of Sierra Lane, Gray, Ky charged with public intoxication – controlled substances.
The two individuals were lodged in the Laurel County Detention Center. Correctional officers at the Laurel County detention Center assisted on this investigation.
Photos of accused are courtesy of the Laurel County Detention Center.