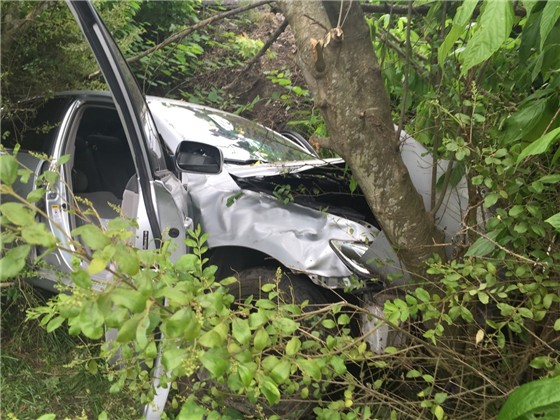 Laurel County, KY - Sheriff John Root is reporting that: Deputy Kyle Gray along with Deputy Jamie Grimes investigated a single vehicle injury traffic crash which occurred on US 25 W, approximately 10 miles south of London on Monday evening May 9, 2016 at approximately 4:42 PM.
The investigating deputies report that apparently a silver colored Toyota allegedly being driven by an intoxicated driver was in the turn lane at the intersection of US 25E, and when the lights changed green the vehicle did not move, however then the vehicle drove straight through the traffic light intersection going south on US 25 W. The vehicle then turned right going over a guardrail and ended on its side on Goodin Lane.
Deputies conducted an investigation and determined that the driver was under the influence. The driver stated that she was in drug court and relapsed on Oxycodone, Clonidine, and Hydrocodone this date. The driver was transported to Baptist Health Corbin Hospital for treatment of injuries.
Deputies identified the driver as:
Jessica Michelle Flanery age 36 of Horse Creek Rd., Corbin charged with operating a motor vehicle under the influence – first offense; careless driving; reckless driving; failure to wear a seatbelt; and other traffic violations.
This subject was cited to Laurel District Court with a court appearance date of June 3, 2016. This subject was cited instead of arrested due to her being injured in the traffic crash and transported to a local hospital for treatment.
Photo of crash site provided by Deputy Kyle Gray.