Laurel County, KY - Sheriff John Root is reporting that Sgt. Larry Parrott along with Deputy Tommy Houston and Deputy Shawn Jackson arrested two individuals off Hideaway Road, approximately 2 miles east of London early Wednesday morning, May 11, 2016, at approximately 2:56 AM.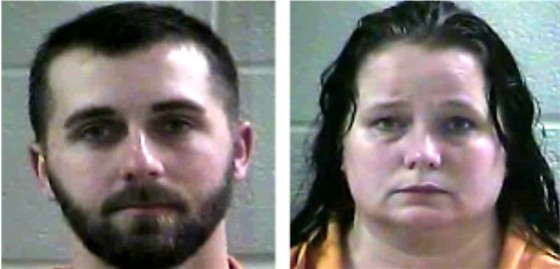 The arrests occurred after deputies were dispatched to a domestic altercation that allegedly occurred at the shared residence of a boyfriend – girlfriend.
When deputies arrived at the scene and conducted an investigation, they learned that the female victim had apparently been hit and kicked several times – she had several red marks, scratches, and swelling, to the top of her head and a possible fracture to her wrist.
The victim was transported by Ambulance Inc. of Laurel County to St. Joseph Hospital ER for treatment of injuries. Deputies learned that the victim's boyfriend, Nicholas Woodard, had left the scene and was apparently hiding in the woods close to the residence.
This subject returned to the residence while deputies were on scene. Deputies detected a strong odor of alcoholic beverages emitting from the subject and learned from him that apparently he and his girlfriend had been out drinking and got into a fight.
When the two subjects arrived at their residence, they got into a physical altercation where the boyfriend and the boyfriend's mother allegedly hit and kicked the victim several times.
Deputies arrested the boyfriend, Nicholas Woodard, age 25, of Hideaway Rd., London, charging him with assault – second-degree – domestic violence and alcohol intoxication.
Also arrested was the boyfriend's mother identified as Ann Woodard, age 46, of Old Whitley Rd., London charged with assault – second-degree.
These two individuals were lodged in the Laurel County Detention Center. Photos attached are courtesy of the Laurel County Detention Center.