COLUMBIA, Ky. – A Clay County resident recently graduated from Lindsey Wilson College.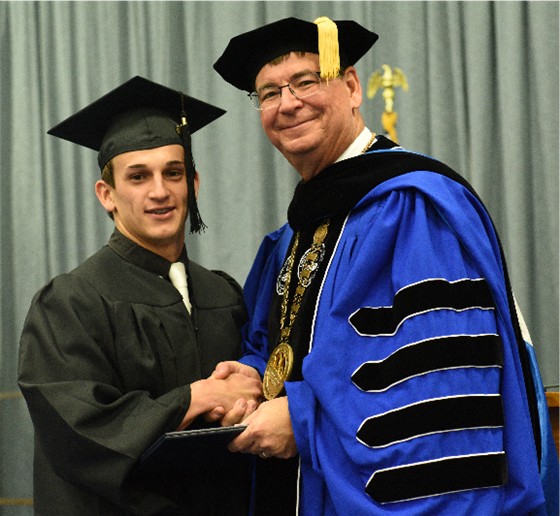 Lindsey Wilson College President Bill Luckey (R) presents Harley Hoskins (L) with his degree
Manchester resident Harley Hoskins was among 244 students who received undergraduate or graduate degrees at the college's 103rd commencement ceremony, held May 14 in Biggers Sports Center.
Hoskins earned a bachelor of science degree in biology.
In his commencement address, Kentucky Hall of Fame Journalist and Host of KET's Kentucky Tonight, Bill Goodman, shared insights from his many years of experience of seeing others become successful through unconventional means.
"Try the other side of the boat," said Goodman while referencing a parable from John. "Do something different, get out of your comfort zone and don't be afraid of fear."
Goodman received an honorary doctorate from the college's faculty and board of trustees. Also receiving an honorary doctorate was Kentucky health education advocate and tennis ambassador Henry Baughman.
* * * *
Founded in 1903, Lindsey Wilson is a distinctive liberal arts college affiliated with the Kentucky Annual Conference of The United Methodist Church. Lindsey Wilson offers a bachelor of arts degree in 23 career areas, a bachelor of science degree in two areas, and master's degrees in three career areas. The college's 2012-13 enrollment is a record 2,677 students.