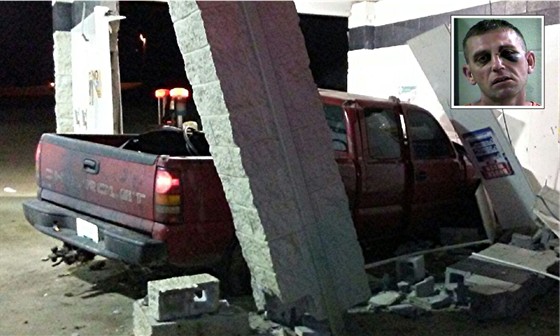 Laurel County, KY - Sheriff John Root is reporting that: Deputy Shannon Jones arrested Joseph Boswell age 38 of Robinson Creek Rd., Lily early Monday morning May 16, 2016 at approximately 2:35 AM.
The arrest occurred on U.S. 25, approximately 8 miles south of London after Deputy Jones was dispatched to a domestic violence complaint and then a related traffic crash that occurred at another location.
When Deputy Jones arrived at the scene he learned that this subject had allegedly struck his mother in the face and kicked her also. This subject then left his residence on Robinson Creek Road in a red Chevrolet pickup and was involved in a traffic crash approximately 2 miles away on US-25 where he allegedly ran his truck through the side of Ultimate Shine car wash causing extensive damage to that business.
This subject then left the scene of the crash leaving his vehicle behind, but then returned to the scene of the crash. Deputy Jones conducted an investigation on the driver determining that he was under the influence – the driver stated he had taken Roxicet.
Joseph Boswell was charged with operating a motor vehicle under the influence; criminal mischief- second degree; assault – fourth degree – domestic violence; failure of owner to maintain insurance – first offense; no registration plates; reckless driving; leaving the scene of an accident; and numerous traffic and equipment violations and was lodged in the Laurel County Detention Center.
Inset photo of the accused is courtesy of the Laurel County Detention Center.